Do you like the new outdoor flickering LED torch lights – but want them in a taller size? Now you can get tall solar torches in adjustable heights up to 55″ tall!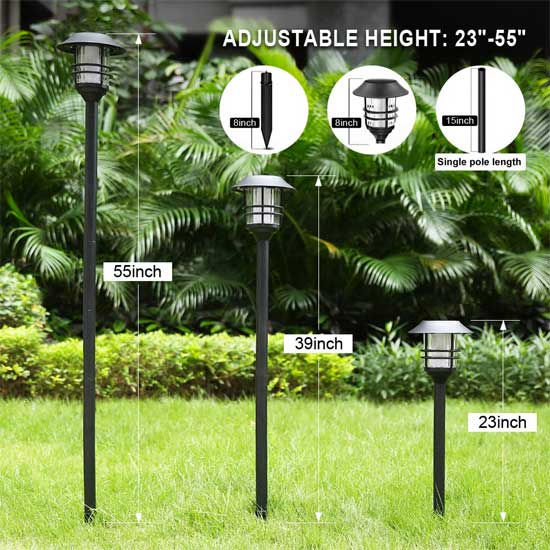 How are These Tall Solar Lights Better?
In addition, these solar lanterns have a more durable stainless steel construction. With a taller post, you definitely want your outdoor lights to have a sturdy frame. I mean, who wants a beautiful flickering light with a broken post, right?
The metal also has a rust-resistant black finish. Therefore, you can count on your solar torch lights to look good as long as you own them.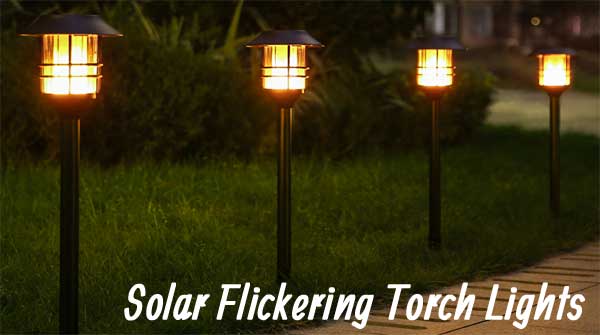 By the way, these outdoor solar torches are rated to last 5+ years, similar to the wildly popular solar tiki torches. Compared to standard cheap solar lights, this is a long time. In other words, I think that these well-constructed, high-quality solar torches offer a great value.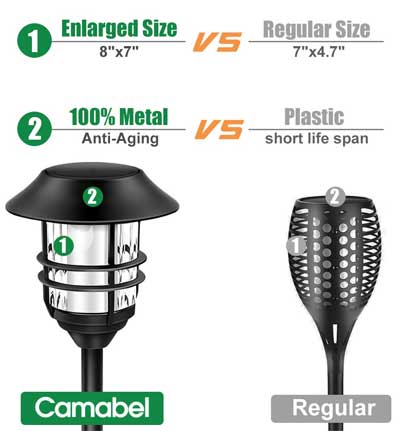 Not to mention, these easy-to-assemble lights just stick in the ground. You don't need any tools, additional hardware, expensive wiring or hired help to install them.
Plus, since they run off solar power, you don't have to pay month after month for electricity. That's another big reason I lover solar lights – I get to enjoy them guilt-free. =)
Furthermore, their dancing flames look very realistic. I've had more people than I can count comment on my unique torches, asking where they can get their own. Now, that's saying something.
My Tips for Installing Your Solar Torches:
The lamp posts conveniently break down into 3 smaller pieces, making the torch easier to install. (Plus, it makes them portable!) Start by inserting the ground stake into the earth, then attach the post segments until you reach the height you like.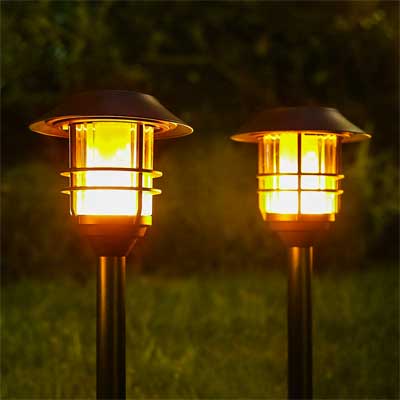 To achieve the brightest light output, set up your lamp where it will receive the most sunlight throughout the day. (And because these lights are taller, the light can reach their solar panel more easily.)
I advise people to set up their solar torch lights in the morning or early in the day. Therefore, they can charge for 10-12 hours in the sun before illuminating.
My lights have had no problems staying illuminated for 8 hours at night when they receive adequate "power" during the day. However, shorter winter days can shorten the time that they stay lit at night.
Finally, make sure you activate the on/off switch on the light. Then, just let the torches work on their own!
These tall solar torches require no maintenance. That said, if you notice leaves or other debris collecting on top of the solar panel, just brush them away.
Landscaping Tips for Using Solar Torch Lights: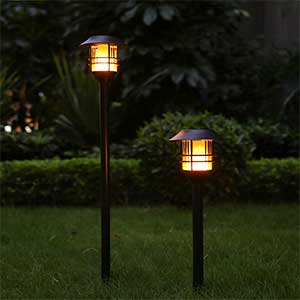 Solar lanterns like these have another great advantage in that you can easily move them whenever you like. For instance, if your landscaping changes and causes shade over the solar panel, simply move the light to a sunny location.
In addition, you can move these torch lights around for parties or special events. They look great along walkways or paths, beside the driveway, poolside, next to a front door, next to a deck or scattered around a garden.
On top of functionally illuminating space in your yard, these solar torches have 96 LED bulbs which appear to move as they create the flame effect. Therefore, they work really well at accenting areas around your home, like a water fountain, dry creek or special plants.
Specs for Tall Solar Torches: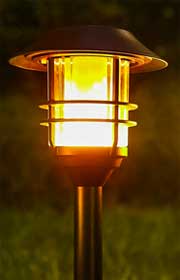 3 Adjustable Heights: 23″, 39″ or 55″ Tall
Weight: Approximately 2 lbs
Material: Stainless Steel
Waterproof
Color: Black
Light Output: 35 Lumens
Bulb: 96 LED Bulbs
LED Lifespan: 50,000 hours
Solar Panel: 3.7V
Battery: 1500mAh Li-ion
Panel Lifespan: 5 Years
2 Lithium Ion Batteries Required. (included)
Solar Charging Time: 8 hours
Auto On/Off Feature
Includes Ground Stake
Model #: light005
Manufacturer: ET Home Supply