How can you add an interesting and fun focal point in your yard that illuminates at night? These color-changing solar lily lights will impress your friends. Plus, you can enjoy them nightly from your window.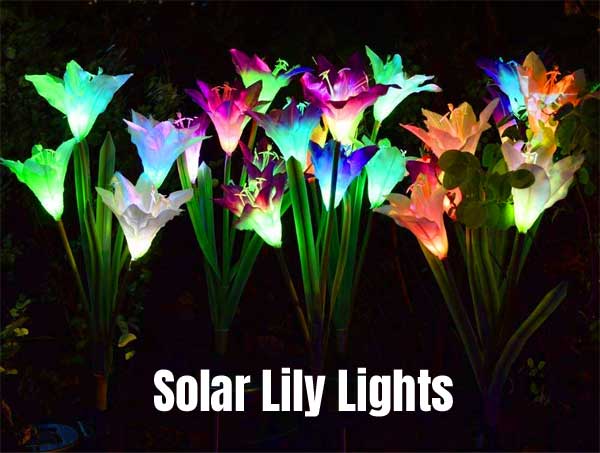 Natural-Looking Solar Lilies Look Really Cool in Landscaping…
These solar-powered lights come in bunches of 4 lilies with a powerful solar panel attached to the stem. Therefore, you simply stake them into the ground and wait for them to turn on automatically at dusk.
I like the fact that each package includes 3 bunches (which contain 4 lilies each). As a result, you can stagger the plants in groups where they look more natural in your landscaping.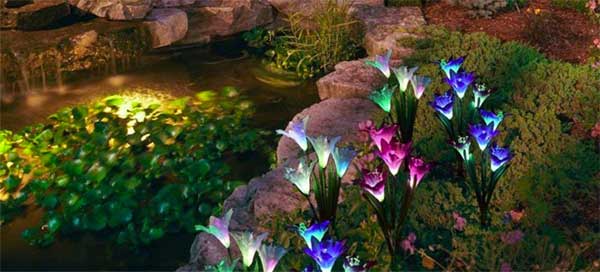 Impressive Lights Actually are a Great Value: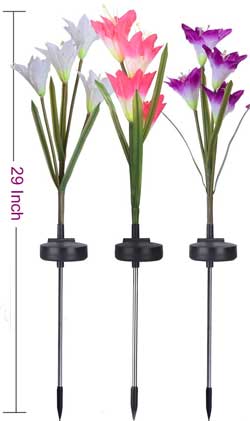 In addition, each 3-pack of 4 flowers only costs about $25. When you do the math, each light (12) only costs about $2.10.
Also notice that the plant + stake measures almost 2 1/2 feet tall. That is to say, these are not miniature flowers.
This price is pretty affordable, considering that these color-changing landscape lights look super unique and even handmade. In other words, they don't even compare to your standard garden pathway lights.
In fact, you can even bend the leaves and branches to give your plants a more realistic look.
Where to Use Your Lily Flower Lights:
Note: Another reason that I like these solar lily flower lights is that you can easily move them around. For example, if you get sun on the north side of your property in the summer that moves to the south side in the winter, just move your lilies!
These solar lily garden lights blend in well amongst landscaping (as long as they get enough sunlight). On the other hand, you can enjoy them close-up along a garden path as well.
However, these solar flowers don't give off enough light to illuminate a pathway. I consider them more decorative than ultra bright. Therefore, I'd use them in addition to walkway lighting.
Specs for 3-Pack of Lily Solar Lights:
Height: 29″ Tall
Weight: Approximately 1 lb
Material: Plastic, Stainless Steel Stem
Bulb Type: LED
Auto On/Off Dusk to Dawn
Lights Stay on 6-8 Hours After charged
Multi-Color LED Changes from Red, Green, Blue, etc..
Number of Lights in 3-Pack: 12
Watts: 1 Watt
Battery: 1.2V/600mAH Ni-MH Rechargeable Battery
Waterproof class: IP65
Where to Buy: Get Color-Changing Lily Lights Here
Want Calla Lily Solar Lights Instead?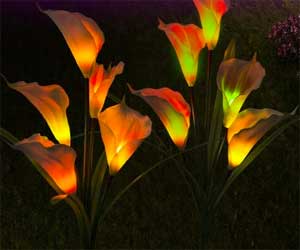 By the way, you can get calla lily solar lights instead. They look extremely lifelike and realistic during the day, and then they illuminate at night.
Plus, these flowers have the multi-color light-changing effect of the lilies above. They mainly cycle between red, amber yellow and green.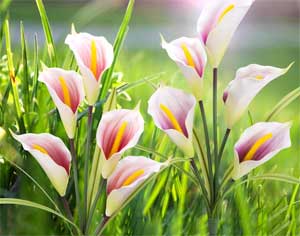 These artificial lily solar lights have a very similar design with spikes that you stake into the ground. However, you get 2 bunches with 5 flowers instead of 3 bunches of 4 flowers.
Considering that you can enjoy landscape lighting at night plus lifelike flowers during the day, I'd say these landscape lights are cheap for the value you get.
Note: Not to mention, your artificial blooms last all year round with no upkeep. =)
Or Water Lily Solar Lights – for Your Pond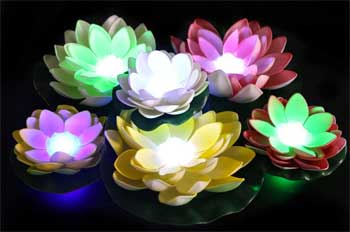 Lastly, if you have a pond or swimming pool in your backyard, you can add some water lily solar pond lights.
They add color, ambiance and interest to your yard at night. Plus they move and change color as they float around on the water.
They also add a fun natural touch to a pool during the day even they are not lit.