Do you want some festive solar pathway lights that have an element of surprise? These solar fireworks lights actually look like mini sparklers, and they even sway and move with the wind. Pretty cool!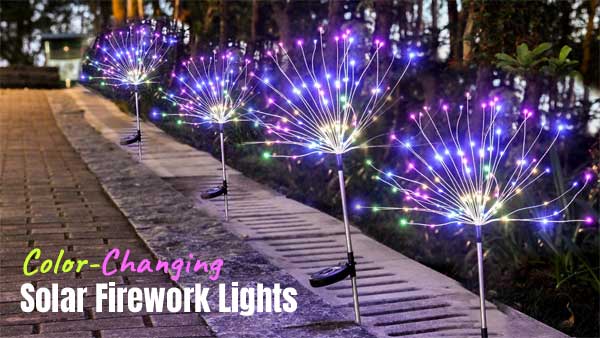 These Mini Solar Sparklers Look Great at Parties:
I think this unique landscape lighting idea is really fun. Plus, the moving LED bulbs grab your attention. Furthermore, you can even set the lights to flash on and off!
Similar to flickering flame lights, they add movement and dimension to your yard. Therefore, you can enjoy it more at night as well as during the day.
They cost about $11 apiece and come in 2-packs, so I think they're fairly affordable. (Especially for path lights that don't require wiring or electricity.)
However, the sparklers don't throw out a lot of light. Therefore, I look at them more like decoration rather than bright lighting. In any case, they do have a noticeable glow to them.
Note: My first thought was that these solar sparklers would look great at a Fourth of July Party. For instance, I can use them as table centerpieces, in flower pots, along the driveway or walkway to the house.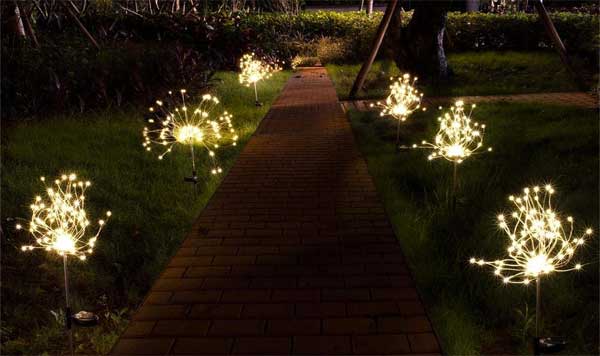 In addition, I like how they light up the backyard all summer long. They look great next to the pool, along the deck railing and interspersed throughout the garden.
Mini Solar Fireworks are Easy to Use:
By the way, these firework lights are really easy to use. First of all, the automatically turn on at dusk and off in the morning (if they last all night).
Second, you can adjust the side solar panel so that it can receive the most sunlight. Also, simply twisting the stem of the lamp can help too.
Note: the tall, slim design lets you locate this solar light virtually anywhere that gets sun. Not to mention, you can actually hide it within a plant so that you don't even know it's there until it gets dark.
See what I mean below: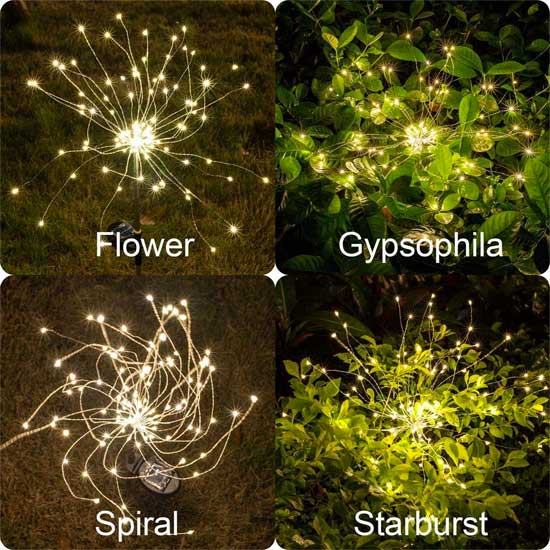 Specs for Solar Fireworks Lights:
Height: 27.7 Inches Tall
Material: Stainless Steel & Plastic
Bulbs: LED
2 Light Modes: Solid and Flashing
2 Light Color Options: Warm White or Multi-Color
Solar Panel: Polycrystalline Solar Panel
Waterproof Class: IP65 (waterproof from rain)
Watts:
Battery: 1.2V/1Pc 600mAh AA Ni-MH (rechargeable)
Package Included 2 Lights
Model #: solar-1008