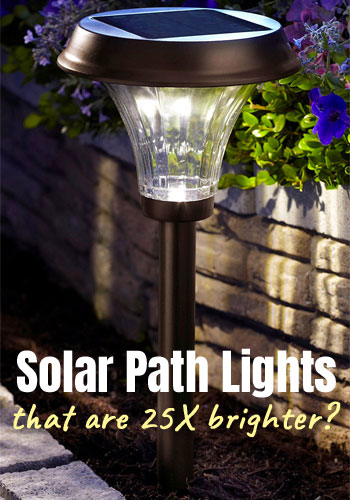 Solar path lights come in very handy because you can use them along walkways, around the patio or to line your driveway. Plus, they are simple to set up and just as easy to move.
The Problem with Solar Pathway Lights…
However, solar pathway lights typically emit very little light. You know the ones I'm talking about. They cost about $2-5 apiece, barely last one season and you end up having to buy 10 times as many. Not to mention, they look cheap.
In fact, I've seen some dismal-looking solar lights made by Moonrays themselves. That said, these solar path lights are different. They give off 25 times as much light.
Are They Worth the Higher Price?
Yes, they cost more – but they are not expensive. Plus, you can buy significantly less of them, so you end up saving money overall.
In Short: These solar path lights cost about 5 times more than lower-end solar competitors. However, they shine – not 5 – but 25 times brighter.

This means that you'd need to buy 25 of the lower-end lamps to get the equivalent amount of light. In total, the "low priced" competitors would end up costing 5 times more.
How are These Pathway Lights Brighter?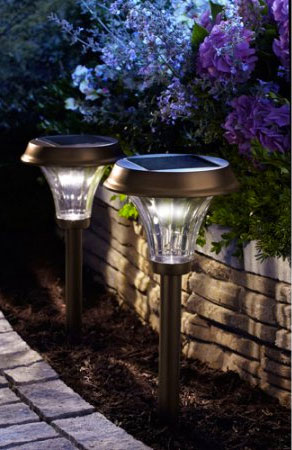 1. Taller Design Shines Light Further
In addition to shedding more light, these lights have more height to them. They are 18″ tall, and typically measure 14″ high when inserted in the ground.
This makes them able to shine light even further. For this reason, I think they work really well as accent lights in the backyard. For example, you can also use them to bring attention to special landscaping features like a dry creek, water fountain or a rock garden.
2. Convex Shape Reflects More Light
On top of that, the convex ribbed glass design enables these solar path lights to shine even further out. (Yes, there is a strategy behind the lens shape of outdoor lamps.)
This wider coverage can even reach up to 4 feet out from the light – in 360 degrees! If you're like me, this has you already thinking twice about these $25 $16 lights. (Get a 2-pack for about $31).
Here's a Quick Path Light Comparison:


Enchanted Path Lights

Solar Powered
Bright White Light
16″ Feet High
1 Lumen per light
About $30 for 6 Lights



SolarGlow Path Lights


Solar Powered
Bright White Light
15″ High
15 Lumen per Light
About $45 for 6 Lights



Moonrays Path Lights

Solar Powered
Warm White Light
18.5″ High
30 Lumen per Light
About $35 for 2 Lights
Well-Constructed Lights Last Longer & Look Better
I also like the fact that these lights are highly durable and weatherproof. Their metal construction lasts much longer (and looks better) than cheap plastic.
Plus, the glass doesn't yellow and dim the light like the plastic typically does. In fact, people may mistake them for built-in low-voltage lights.
Pathway lights turn on automatically and can stay lit for up to 8 hours, depending on how much light they get during the day.
Specs for Solar Path Lights
Dimensions per Light: approximately 18.5″ tall x 7″ diameter
Lamp Weight: 1.8 lbs
Material: Metal Body, Glass Lens
Lamp Color: Rubbed Bronze Finish
Lumens: 30 Lumens per Light
Bulb: .35 LED, Warm White
Batteries: (3) AA NiMH 1500 mAh Rechargeable Batteries
Model #: Moonrays "Richmond" 91754
About the Brand: Moonrays has been around since 1986. Their lighting products include both solar and low voltage solutions ranging from outdoor pathway lighting to accent lights to seasonal outdoor lights. Manufactured by Coleman Cable, Inc..