Creative Mason Jar Solar Lights Kits began because people started making their own jar lanterns and wanted a simpler way to do it. Rather than having to buy and build the materials to fit the exact size of your jars, you can simply get everything pre-assembled.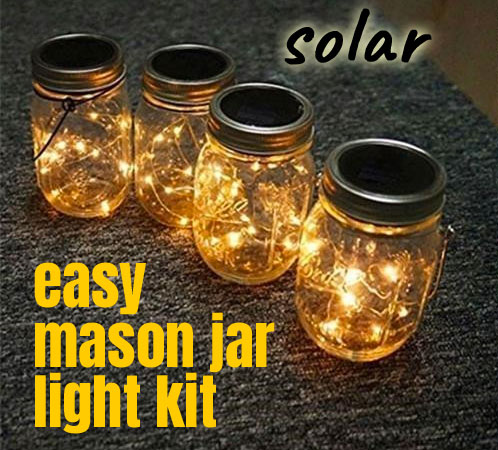 Mason Jar Light Kits Solve Common Problems…
In addition, these kits solve a common problem that people were having. Water was leaking in the lanterns and therefore ruining the lights. Now, these kits include a custom-fit O-ring to prevent water from entering the lights when it rains.
Hence, you can use these mason jar solar lights outdoors year-round without worrying about whether or not they are weatherproof. You just need to find a sunny location for the solar panel to charge. They automatically turn on at dusk.
Another key feature of these mason jar lamps is the metal handle. This allows you to hang it up high as a pendant light or from a wall, post, fence or tree branch using a metal wall bracket.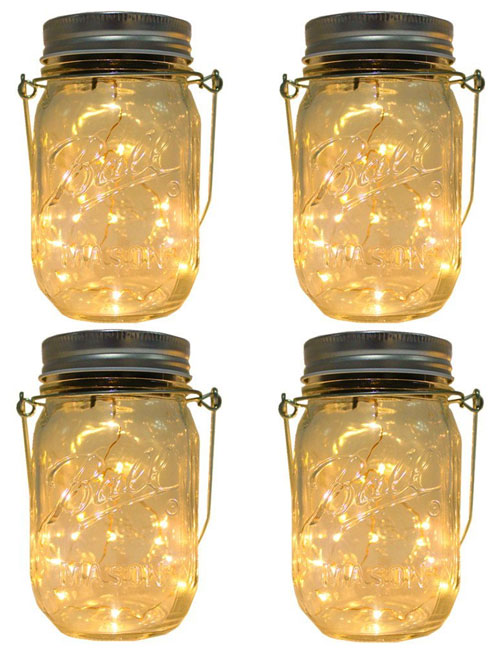 Find Lots of Uses for Your Solar Jar Lights:
Alternatively, mason jar lights work well on tables for ambiance lighting or as centerpieces. Furthermore, you use them to create unique pathway lighting.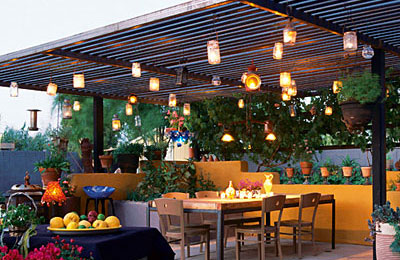 Since you can easily move mason jars around, these can provide festive indoor lighting as well. For example, you can keep them outside, and then bring them indoors for a special dinner party. Or, to create a spa in your bathroom.
As you can see, these unique lanterns come in handy for multiple occasions. You can use them year-round to create ambiance anytime you want it.
By the way, if you want to know how make your own mason jar solar lights, check out this tutorial. If you do make your own, make sure to install a well-fitted O-ring and use LED bulbs because they last much longer.
What I Like About the Rechargeable Batteries:
I also like the fact that you can remove the rechargeable batteries. This means that you can charge them in a separate battery charger if there is not enough sun to recharge them outside.
Make sure you get a charger than fits AAA batteries. They can cost as little as $10, or you can opt for a "quick charging" unit and pay about $5-6 more.
This mason jar light kit conveniently includes everything you need to set up your mason jar lights. Therefore, you don't have to purchase supplies separately and figure out how to make them. You get:
Mason Jars (4)
Jar Lids (4) with Built-in Solar Panel, String Lights and Waterproof O-Ring
Heavy-Duty Metal Hanging Handles (4)
Rechargeable Batteries (4) to Re-Charge the Solar Panels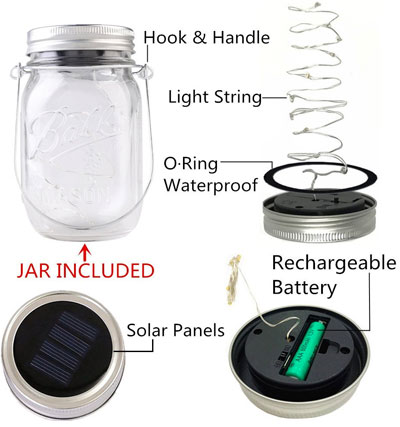 Note: By the way, you can buy the jar lids (with solar, batteries and lights) separately if you already have standard-sized mason jars that you want to use.

You can save some money this way. However, you will need to construct your own handles if you want to hang the lights.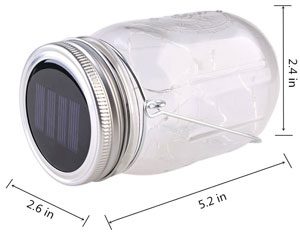 Specs for Mason Jar Solar Lights:
Dimensions: Approximately 5″ Tall x 2.5″ Diameter
Material: Glass Jars, Metal Lids and Metal Hangers
Bulbs: 10 Warm White LED Bulbs on Copper Wire
What if You Want Colored Lights?
No Problem! You can get kits for those too – and they cost about the same. =)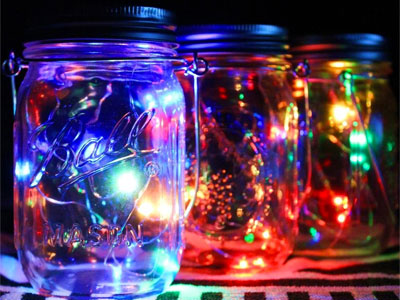 Color-Changing Mason Jar Lights
Again, you can buy these light kits with or without the mason jars. In addition, they are available in packages of 3, 4 or individually.
Not only do these have colored LEDs, but the bulbs change color. Plus, they flicker.
Note: Want to impress guests with firefly lighting at an outdoor party? These work perfectly!