Do you want an easy way to transform your home into a fun, spooky haunted house this year? Solar Halloween lights can make your home look scary or festive, and they won't increase your electric bill!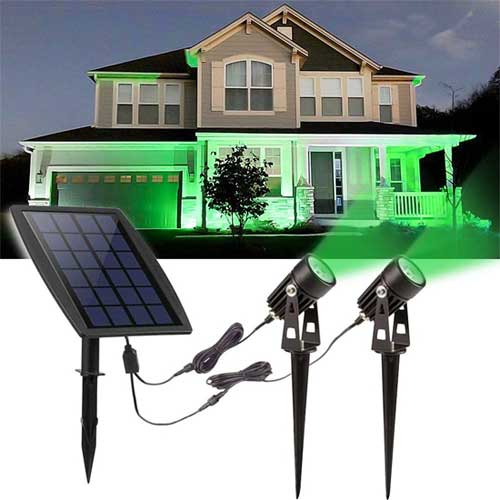 Step 1: Illuminate the Front of Your House with Spooky Green Lights
First of all, start with green solar spotlights. These 2 powerful lights can illuminate the entire front of your home and transform it into a haunted house at night.
Note: You can also use them to light up trees or certain areas in your yard where you want to add more decorations. In other words, they do double-duty, as far as lighting goes.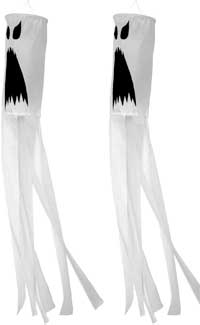 For example, ghost windsocks are very popular because they are cheap and easy to hang. In addition, their ultra-lightweight material blows around even in a light breeze, so they easily catch your eye.
By using spotlights, you can illuminate the hanging ghosts without having to buy more expensive lit-up decorations. Plus, you can enjoy the flying, animated ghosts during the day too.
In addition, spotlights can add lighting to your driveway or path to your entryway for trick or treaters. The lights turn on automatically at dusk, so you don't have to remember to turn them on every night. =)
Note: These landscape lights have a sturdy design and last a long time (I have them in white). As a result, you can get many years of use out of them. Not to mention, you can use them during other holidays as well, like Christmas or a St Patrick's Day party.
Step 2: Hang Some Witch Hat Lights
Next, add some colorful hanging witch hat lights. Attach them to trees, your roof or other outdoor structures like pergolas (they are waterproof).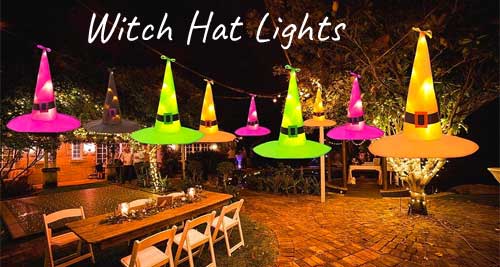 Note: At night, they look like they's spookily suspended in mid-air, yet they also have a fun party vibe to them. No wonder they are one of the most popular Halloween decorations this year.
These unique witch hat string lights (9 hats) even come with a remote control. Therefore, you can turn them on or off from a distance, as well as change the brightness or lighting mode.
By the way, lighting modes include Flashing, twinkle, waves, sequential, slow-glow, chasing, slow fade and steady on.
Alternatively, you can use the included timer function to automatically turn on the lights at a specified time. For example, have them turn on for 6 hours, then off for 18 hours.
Step 3: Add Solar-Powered Halloween String Lights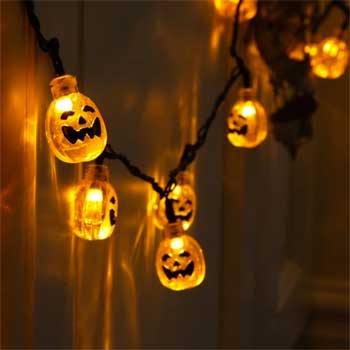 You can find a wide variety of solar LED string lights for Halloween. Some of my favorites include orange jack-o-lanterns, purple spiders and white ghosts.
They hang easily along fences, deck railings, around doorways or from trees. However, I especially like the purple spiders draped over shrubs or landscaping next to a pathway.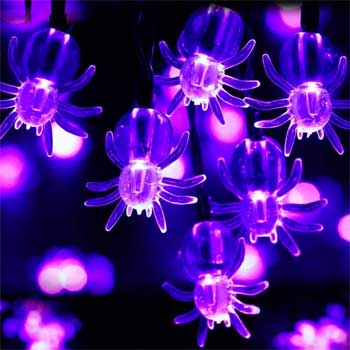 Not to mention, since they don't require electrical power, you don't need to find a power outlet or use an extension cord. Simply set them up virtually anywhere that gets daytime sunlight.
All of these string lights feature multiple modes, so you can change them depending on your mode. For example, you can choose twinkle mode, a slow fade, flashing or steady on (and more options).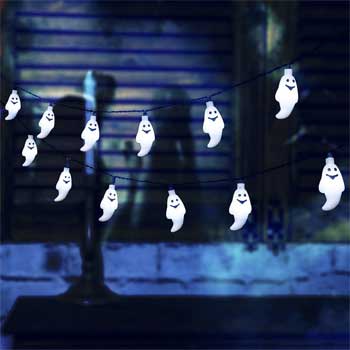 Each of these string light sets contain 30 LED lights and run about 20 feet in length. Therefore, you may need more than 1 strand, depending on your needs.
Pumpkin string lights also add a festive touch to outdoor planters, gates or mailboxes. Have fun with them!

Step 4: Add Halloween Solar Stake Lights
If you don't know already, my favorite solar stake lights are the flickering tiki torches. They do a great job illuminating a walkway, a driveway or landscaping as well as looking super cool. (Everyone comments on them!)
I use mine year-round, but they also add a spooky ambiance during Halloween. In other words, if you already have these, you don't need to buy new path lighting.