Lanterns work really well at creating ambiance. Their amber light combined with a flickering flame can set a relaxing, festive or romantic mood.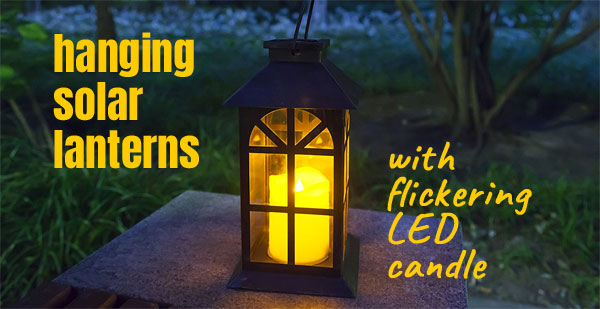 They look great on tabletops, but you can also hang them or set them on the ground as pathway lights. Because they are portable and easy to move around, they provide a very versatile lighting option as well.
The Downside of Outdoor Lanterns:
However, candles don't typically give off a lot of light. Plus, I always worry about leaving them unattended. If I am entertaining or trying to relax, I definitely don't want to have something extra to worry about.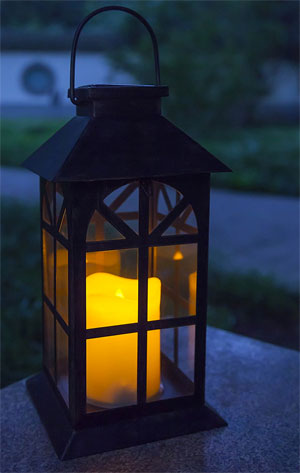 Why I Like These Solar Lanterns…
So, when I came across these hanging solar lanterns, they got my attention. Not only do I not have to worry about an accidental fire starting, they automatically turn on at dusk. No thought or effort is required on my part.
Plus, they shine more light than a regular candle does. That said, don't expect them to light up a room or even provide enough light for reading. These are mainly for ambiance rather than as task lighting.
Speaking of which, they still provide plenty of character and charm. Their weathered-looking metal frames and nautical/mission design definitely stack on the classic vintage charm.
In fact, they even add style to your home during the daytime when they are not illuminated. This basically gives you a double bonus when shopping for solar lights.
Here's a Quick Solar Lantern Comparison:


Lamplust Solar Lantern

Warm White Light
? Lumens
Flickers: Yes
11″ Tall
Black Metal Frame
About $47 for 2 Lights



Umbrella Solar Lantern

Warm White Light
5 Lumens
Flickers: Yes
5″ Tall
Black Plastic Frame
About $22 for 2 Lights



Mission Solar Lantern


Amber Light
13 Lumens
Flickers: Yes
13″ Tall
Bronze/Black Metal Frame
About $60 for 2 Lights
These Easy-to-Use Lanterns are Ultra Versatile:
Unlike your standard pathway lights or spotlights that stake into the ground, you can easily carry these solar lamps around. Set them down or hang them up wherever you need light at the time.
For example, sometimes you might want to use them to line a path. On the other hand, you can use them as table centerpieces when you have dinner guests. Or, hang them by your front door if you are hosting a holiday party. You can even take them with you to the park or the beach.
Note: By the way, wall brackets work great for these hanging solar lanterns. Wrought iron gives you that classic antique look while also providing durable and long lasting support. You can get some here for about $6.
The Cost Savings of Solar Lanterns…
As with most solar lights, you don't have to hassle with wiring or time-consuming installation. The cap design cleverly conceals the built-in solar panel which re-charges the lantern each day. Then, the flickering LED candle illuminates at dusk.

Note: Another bonus of not having to connect to electricity is the cost savings on your utility bill. You never have to feel guilty about lighting up your backyard.
Specs for Hanging Solar Lanterns
Dimensions: 13″ tall x 5.5″ wide x 5.5″ deep
Weight: 2.2 lbs
Material: Weatherproof Steel Alloy Metal Frame, Glass Windows
Lumens: 13 (compared to other solar lanterns with only 5 lumens)
Model #: SLSeriesA