I've always enjoyed using solar string lights outdoors during the holidays – even year round in the landscaping. However, I really like the new Edison bulb string lights that my neighbor got. Hmm…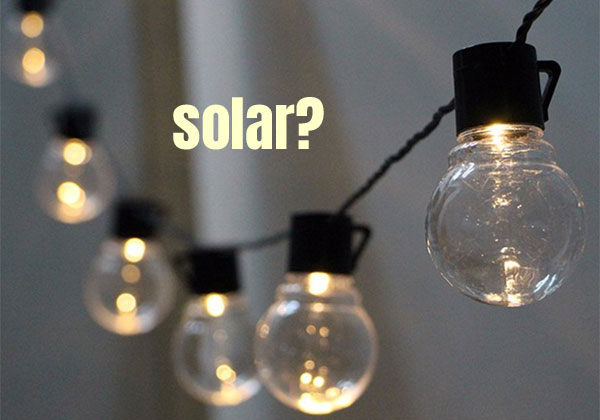 I didn't want to give up solar power, though. Well, I finally found solar globe string lights that closely replicate the look I want.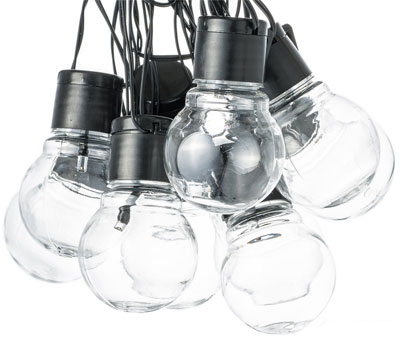 No, they don't shine as brightly as traditional plug-in bulbs. For example, this strand uses approximately 5 watts, whereas regular Edison bulbs use 2 watts each (when on a string of lights).
Plus, these bulbs aren't as big. All that said, I like the clear glass, the warm white light and classic-bulb shape. It's ambiance I'm after here, after all.
Each bulb also has a clip attached. Therefore, you can easily fasten them to tree branches or secure them along a pergola, fence or deck railing.
Of course, you can string them across your patio like bistro lights. They give the backyard a festive look all year round. One more reason to celebrate, right?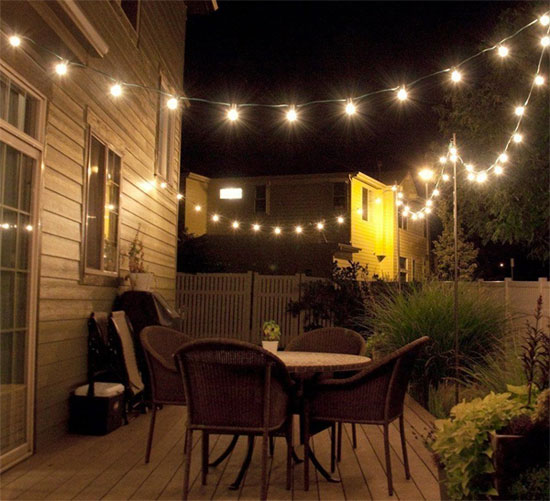 And, these vintage-looking bulbs use LED lights run on solar power! I definitely have my neighbor beat when it comes to my electric bill. =)
Not only are they more energy efficient to operate, they even cost less than traditional Edison bulb string lights. I think I've just found a winner.
Here's a Quick String Light Comparison:
Note: Lights turn on automatically at dusk and should stay lit for 8+ hours after 6-8 hours of charging in fun sun. Typically, lights shine longer when in the "flash" mode vs the steady on mode.
Specs for Solar Globe String Lights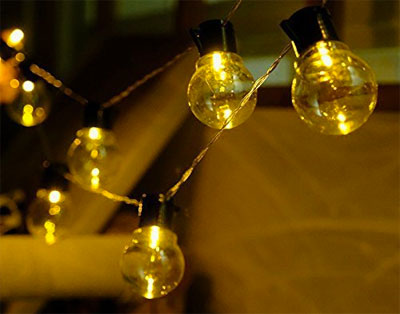 String Length: 10.5 feet
Number of Lights: 10
Material: Plastic Globes
Color: Clear Plastic, Warm White Light
Lumens: 10
Light Modes: 2 (steady, flash)
Solar panel: 2V 100 MA
Battery: 1.2V 600m AH NI-MH
Note: This light set is designed to be used outdoors in wind, rain or sun. However, it is not meant to be submerged in water. In most cases, this does not present a problem, just keep it in mind if your lights for some reason end up on the ground in a puddle.
A second alternative is to get "Mini" globe string lights that measure about 1″ in diameter. They are definitely smaller than Edison bulbs (and don't even resemble them).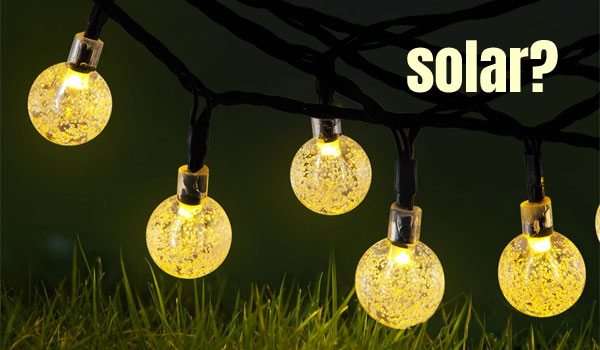 However, you get 30 bulbs instead of 10, they cost less (when on sale) and you can suspend them over a longer distance. In addition, they still have that bulb-like shape, clear plastic bulb and warm white light.
If you are working with a limited budget or have a larger backyard that requires more lights, these may be a better option.
Specs for Mini Solar Globe String Lights
String Length: 20 feet
Size of Mini Globes: 1″ diameter
Number of Lights: 30
Material: Plastic Balls
Color: Clear Plastic, Warm White Light
Light Modes: 8 (steady, firefly flashing, twinkle flashing, chase flashing, fade, slow fade, waves, combination)
Solar panel: 2V 100mA
Ni-Mh batteries: AA size, 600mAh
Note: If you notice after several years that lights become dim or don't stay lit as long, try replacing the batteries. You can get extra Ni-Mh 600mAh rechargeable batteries here.