I have several trees in my yard that I like to illuminate at night with spotlights. I have tried many different solar spot lights for trees, but they never seemed to shine far enough or give off enough light.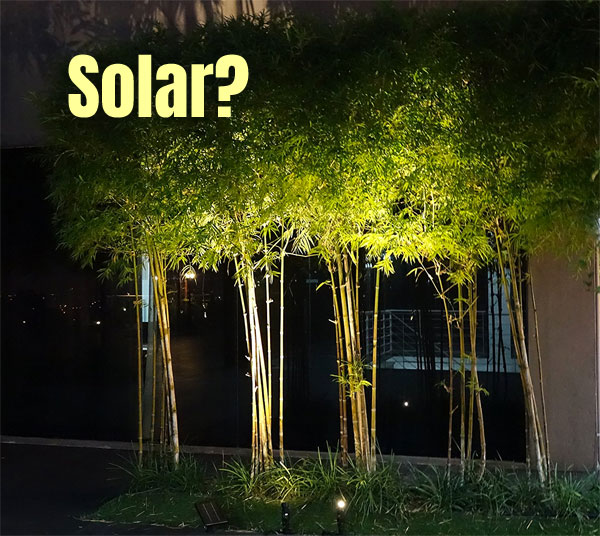 Then, I found these. To be honest, I partially got them because they were a lower price compared to other models. I didn't actually expect them to illuminate a 15+ foot tree. Well, I was wrong.
Spot Lights are Bright Enough to Illuminate Multiple Trees
In fact, I can use 1 twin set (2 lights connected to a single solar panel) to light up multiple 15-18 foot trees. I was so impressed that I bought 4 more sets.
For some wider conifers, I use a twin set to illuminate different sides of the tree. Since the cord length between the 2 lights measures 16 feet long, I can easily position the lights far away from each other.
Note: Keep in mind that solar lights don't shine as brightly as those powered by electricity. Don't expect them to. That said, these lights let you enjoy seeing your backyard at night and make your front yard more inviting to guests.
3 Brightness Settings
I admit, for taller trees I use the brightest setting. This shortens the amount of time that the lights stay lit. However, they still shine long after I go to sleep at night (5+ hours).
Note: You can use the 2 "less bright" settings to extend the time that the spotlights stay on.

For example, if you want to illuminate your front entryway or walkway all night, you could use the lower light settings. Depending on the sunlight received and brightness setting, this set typically runs 5-15 hours.
Mini Solar Lights are Actually Easy to Conceal
I also like these spotlights because they are really small (1.5″ diameter!). You can conveniently hide them behind a rock or small shrub due to their compact size and low profile. Personally, I'd rather not see light fixtures or solar panels scattered around the yard in the daytime, so I love this feature.
In addition, you can easily hide the solar panel too. The wire from the panel to the first light measures 16 feet, so this gives you lots of versatility as to where you position the panel. This makes it easier to (1) find a bright, sunny location for best charging and (2) put the panel far enough away that no one notices it.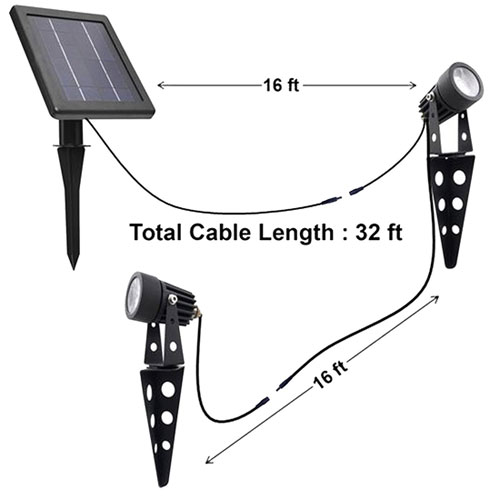 How are these Solar Spot Lights 50X Brighter?
The LED bulb comes with a special magnifier lens to amplify the light output. Plus, the 45 degree output angle covers more area.
In addition, I think that the smaller 1.5″ diameter lens concentrates the light so that it can shine a further distance. Therefore, it works much better at illuminating the top or upper branches of a tree rather than a plant 3 feet away.
"Vivid" Warm White Light?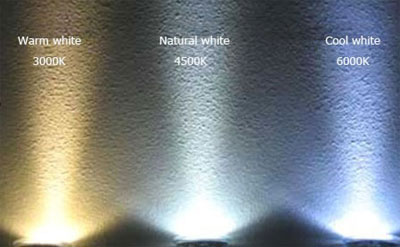 Like many people, I prefer using warm white light in my landscaping now. It looks more natural and feels relaxing.
Furthermore, I also noticed that the trees appeared more bright and "vivid" with these solar spot lights than previous ones.
I don't know of a better way to describe it. Maybe it's a combination of the clear lens with the concentrated bright LED. In any case, I like it.
Specs for Solar Spot Lights for Trees:
Material: Cast Aluminum Metal, Impact-Resistant Lens
Lamp Color: Black
Bulb Color: Warm White (3,000 K)
Lumens: 60-100 Lumens per Light (3 brightness settings)
LED Lifespan: 50,000 hours
Battery: Rechargeable 3.7V Lithium Battery
Package Includes Hardware for Mounting in Ground or on Wall
Model #: SLM81230