Do you want rotating party light that you can use outdoors, like a disco ball? You can actually get solar projector lights that revolve and display 1,000's of moving colorful lights in your yard.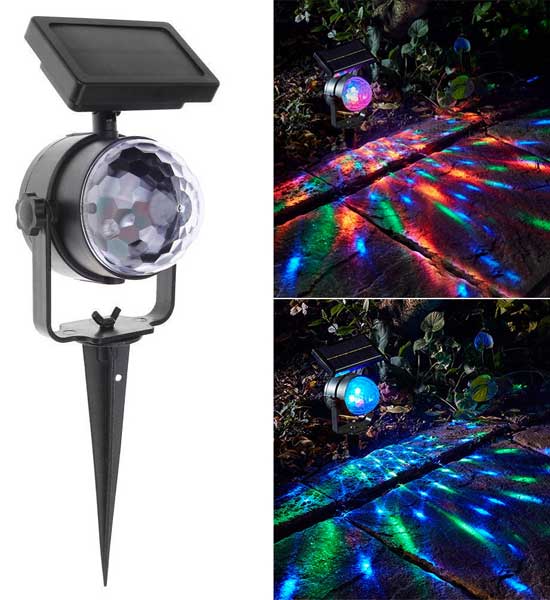 Holiday Projector Lights… Made Solar!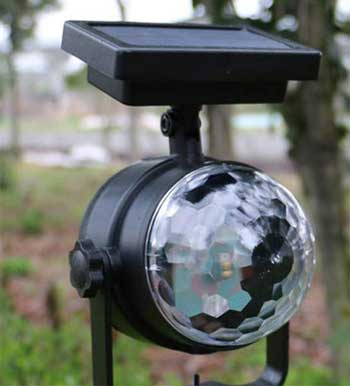 In fact, you may have seen this style of projector light during the holidays when people decorate their homes for Christmas, etc.. A single lamp can illuminate your entire yard, and you don't have to hang up string lights!
Well now you can get these multi-color projector lights with an energy-efficient solar panel attached.
As a result, you can place them in multiple areas of your yard without having to lay out a long extension cord. I love landscape lights like these that make set-up easy!
Why wait for the holidays when you can enjoy a magical backyard all year round, right?
Note: Although these solar-powered projector lights through out light in many directions, they only contain 3 LED bulbs. Therefore, they aren't extra bright.

If you want to illuminate trees or your landscaping with bright spotlights, check out these solar spot lights for trees. Or get solar path lights that have a lot more lumens.
Lights are Easy to Install:
Each lamp comes with its own stake, to secure the fixture in the ground. The attached light can tilt forward and back, and you can rotate the fixture side to side. In other words, you can easily adjust this solar disco ball light to shine in whatever direction you choose.
These Projector Lights are Cost-Efficient: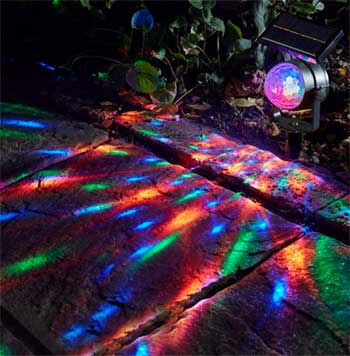 Plus, these solar lights generate their own power. Consequently, you don't have to pay a bunch more money on your electric bill each month. I see it as guilt-free backyard decorating.
Solar Lamps are Low Maintenance:
In addition, these projector lights turn themselves on automatically at dusk. (By the way, that includes both the lights and the motor that rotates them.)
Therefore, you don't have to worry about turning them on manually or setting them on a timer.
Plus, you can easily move them whenever you want. For example, use them in your front yard, to illuminate trees, on the patio or poolside.
Note: By the way, these unique party lights make great gifts for party hosts. I mean, instead of bringing a bottle of wine, you can light up the whole party!

Specs for Solar Projector Lights:
Approximately 13″ Tall
Material: ABS Plastic
Waterproof
Color: Black
Bulb: 3 LED Bulbs
Lamp Bead Colors: Read, Blue, Green
LED Lifespan: 50,000 hours
Solar Panel: 4V 80mA Monocrystalline Solar Panel
Battery: 1X14500 Lithium Battery 500mAh
Solar Charging Time: 8 hours
Auto On/Off Feature
Includes Ground Stake
Model #: Sundlight-123
Brand: Sundlight