Do you want to add a unique, impressive touch to your front or back yard? Just as sleek as solar globe lights (but more elegant) are these new stone-shaped solar garden lights…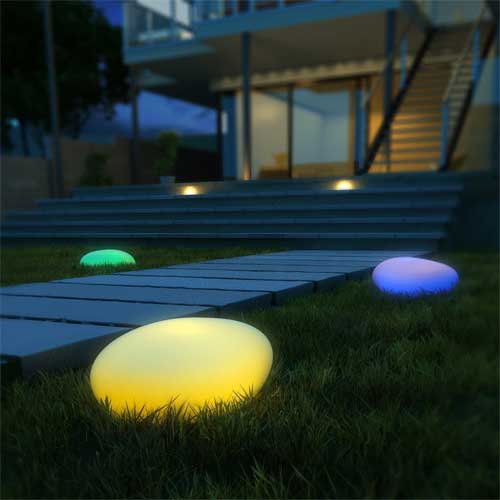 If you've ever seen LED globe lights illuminate at night, you can appreciate how they turn any garden into a magical place. However, these natural looking stone-shaped lights can easily blend into the landscape during the day.
In addition, I like these solar-powered stone lights because they are significantly larger than other 8″ diameter round globes. Therefore, they make a bigger impact in the yard.
Note: Plus, they shine brighter, so you can use fewer stones and create a more sophisticated look. (If you want a designer tip, use garden accessories in odd-numbered multiples, for example 3 or 5.)
You can use these solar lights along a walkway, patio or scatter them around your lawn. On the other hand, you can integrate them into a dry creek with other rocks and illuminate creek bed at night.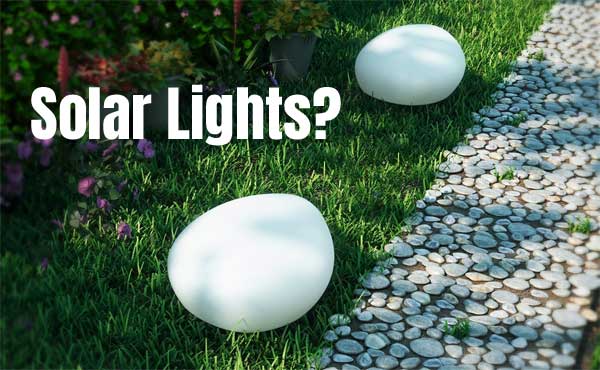 Use these decorative outdoor lights for parties or during the holidays. Their soft, color-changing glow definitely makes a statement, and they are almost mesmerizing to look at. There's no question, guests will be impressed.
At under 3 lbs, Kealive LED ball lights are super easy to move. That said, they do come with ground stakes, so you can secure them in your garden without worrying that they will blow away.
What About the Cost of these Solar LED Stones?
Priced at about $40 apiece, these solar globe lights are not cheap. However, they run off solar power, so you don't have to pay for electricity or installation costs. (They even work in rain or snow!)
Considering those cost savings, and that lights like these typically last about 7-8 years, I calculate that the $40 breaks down to about 1-2 pennies per day. Now that's cheap compared to hard-wired landscape lighting!
And if it makes you feel any better, you can compare the $40 15″ solar stone lights to Target's $50 8″ solar globe light. Feeling better already, right?
Specs for Stone-Shaped Solar Globe Lights
Battery Type: 3 x AA Ni-MH Rechargeable Batteries
Bulb: LED
8 Light Colors: Red, Green, Blue, Yellow, Scarlet, Sky Blue, Pink, White
10 Color Modes: Set light to solid color of choice, automatic changing colors or off.
Solar Panel: 5.5V 270mAh
Auto On-Off Feature
Waterproof Level: IP67 (Higher level of waterproofing than other weatherproof solar lights having IP65. By the way, the newer iPhones have the IP67 rating.)
Dimensions: 15.7″ long x 11.8″ wide x 6.3″ tall
Weight: approximately 2.5 lbs
Material: Polyethylene Plastic (strong, durable, flexible), opaque, not clear
Package includes ground spike
Model #: LT-S02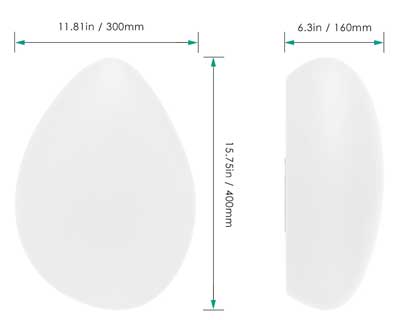 Unlike the round LED light ball, the stone-shaped lights don't come with a remote control. However, the stones are larger and cost about $25 less. Depends how much you like that remote. I know it's cool.
Crackle Glass Globe Lights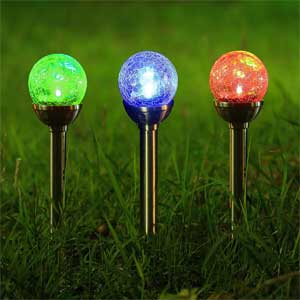 Also, if you prefer the crackle glass globe lights on stainless steel metal stakes, you can get a set of 3 on Amazon for about $20.
These color-changing globe lights are festive as well, but smaller in size and not as bright.
Home Depot also carries a Hampton Bay 3-pack for about $32. They are much taller and have a mosaic glass pattern. And Walmart sells the Moonrays brand for about $9 apiece.