Talk about making your landscaping instantly unique and intriguing! Solar flower lights can really do the trick. In fact, they add color and beauty to your backyard during the daytime as well as at night.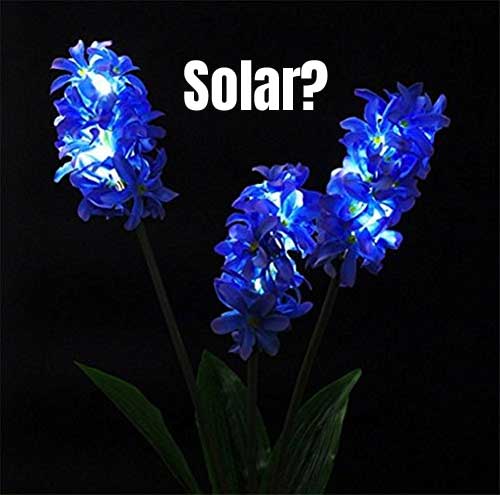 Solar-Powered Flower Lights are Low Maintenance & Low Cost

1. Easy to Install
Because these life-like plants are solar-powered, you can easily install them anywhere that receives adequate sunlight. Simply stake the metal stem in the ground. No wiring required.
2. No Electrical Costs or Replacing Bulbs
Plus, they run off a solar-powered battery. Therefore, you don't have to pay additional electrical costs. The LED bulbs last the lifetime of the lamp, so you don't have to replace bulbs either. Save energy AND Money!
3. They Run and Recharge Automatically
On top of that, these LED solar flower lights turn on automatically at dusk and off at dawn. They recharge during the day and require no maintenance like traditional landscape lighting – or plants for that matter. =)
Note: Lastly, these solar lights have metal stems. In other words, they are not made with cheap plastic that easily breaks. Expect many years of low-maintenance landscaping – not to mention year-round blooms!
6 Ways to Arrange Solar Flowers in Your Landscaping:
(1) You can group a variety of blossoms together to create a colorful floral arrangement as a "focal point" in your garden. (2) Alternatively, some people position flowers in between existing shrubs for a more realistic look.
(3) Use these year-round blooms as pathway lights, (4) in flower pots and more. One big reason why I like solar flower stakes such as these is that you don't need many to make a big impact in your landscaping. Less is more, as they say.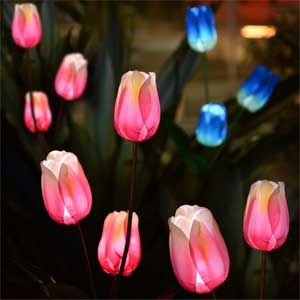 Solar flower stem lights come in different colors and varieties, such as blue, pink, white, red and yellow. For example, you can get red lilies, yellow roses, pink tulips, orchids, daisies and more.
Regal Art & Gift makes solar bell flower stakes with hand painted glass that look stunning. However, they do cost more.
Some lights feature a single flower while many others include a set of 3 stems. You can even get a color-changing 3-pack. (Note: the petals on these lights are clear acrylic, so they don't provide any color during the daytime).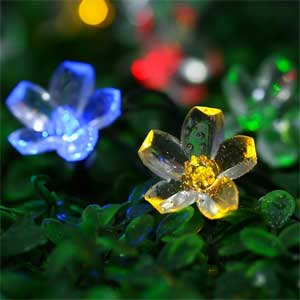 In addition, solar flower string lights can add color, ambiance and lighting (5) in trees, planters or even rock gardens.
Hang them on tree branches or use them as festive garlands during the holidays and parties.
Plus, you can get decorative, multi-colored fairy lights that flicker and add life to your garden after the sun goes down.
Floating Solar Pool Flowers?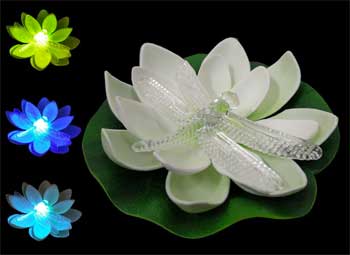 By the way, if you have a pool or water feature in your backyard, you might like floating lotus flowers that light up at night. (6) Set them on the surface of the water and watch them bobble around.
Some change colors and feature plastic dragonflies in the center. (In fact, they can be very mesmerizing!)
Note: The solar battery is located in the bottom of the light, so make sure you tightly screw the lid shut before placing it in the water. The biggest complaint from customers is that water leaks in through this area. Be careful which brand you go with.
Specs for Solar Flower Lights
Bulb: LED
Material: Stainless Steel Stem/Stake, Raw Silk Petals, Waterproof
Battery: 1.2V AAA600Mah NiMH
Solar Panel: 52 * 52MM 2V 60MA Polysilicon
Dimensions: 18″ tall x 3.3″ long x 2.5″ wide
Color: Blue/Purple
I have looked locally at Home Depot and Lowes for unique floral lights like these, but haven't found anything that compares.
In summary, solar flower lights can magically transform a backyard garden at night without costing a lot of money. Think about a few key focal points, strategize with color and consider unexpected locations to surprise your guests.