Do you have an outdoor staircase, pathway or deck that you want to illuminate at night? This style of solar step lights is my favorite. However, they also have some features that I don't like…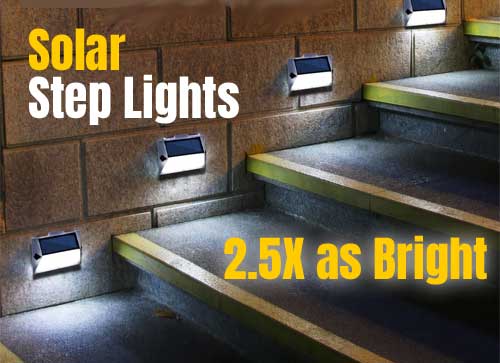 Pros of the LED Solar Step Lights:
1. LED Bulb Brightness
First of all, you'll notice that these solar lights shine brightly. They aren't kidding about that. I use them to light up steps on my deck, and they work really well for that. In fact, they not only illuminate the are directly in front of the fixture, but also out to the sides.
Tip: The lights feature 8 LED bulbs instead of the traditional 2-3 bulbs that cheaper solar lights have. When you shop, make sure to check the number of bulbs included so you get the best bang for your buck!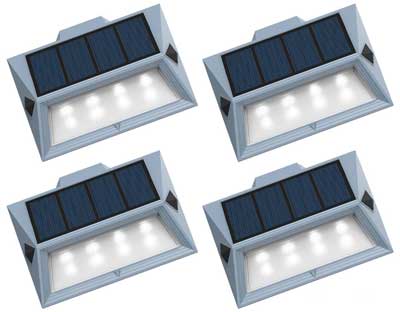 2. Unobtrusive Design
Second, they only extend outward 1.2 inches. Therefore, I haven't had to worry about people stepping on them, kicking them, etc.. Plus, their compact flat design allows you to use them in a variety of locations.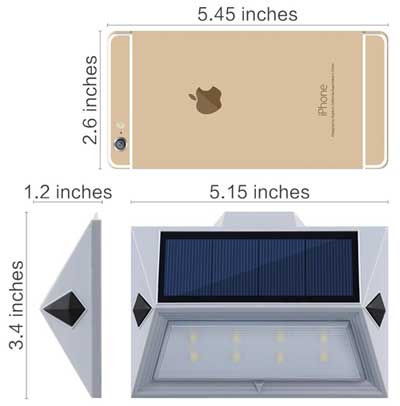 3. LED Bulbs Last a Long Time
Third, my previous set of step lights lasted about 8 years. I actually didn't expect them to last that long. I mean, these lights aren't expensive (especially when you take into account that they use solar power). Granted, the lights did dim over the years, but I expected that.
4. The Solar Panels Collect Power Well
I don't know exactly how they work, but the solar panels work very efficiently at collecting sunlight throughout the day. In fact, I placed 2 of my step lights in partial shade. They still light up every night like clockwork. Maybe this is due to having 8 bulbs instead of just 3.
Note: By the way, I noticed that step lights (solar powered) that contained more than 8 LED bulbs actually were motion-sensor activated. In other words, they illuminated more brightly but did not stay on. Keep this in mind as you compare prices and lights.
Compare LED Step Lights:
5. Easy Installation
The manufacturer provides 2 different installation methods: screws and double-sided tape. Therefore, if you don't want to drill into siding, a wall or concrete steps, you don't have too.
The included foam tape feels really sticky, but I'm not sure how long the adhesive would last, especially in rainy conditions. (By the way, the company includes instructions on how to install the lights.)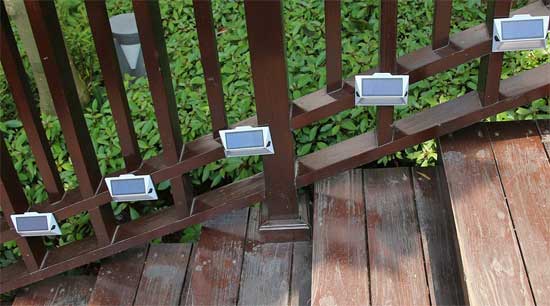 What I Don't Like About These Solar Powered Step Lights:
1. The Plastic Frame Looks a Little Cheap
First, I don't like the color of the light grey plastic frame. My previous step lights had stainless steel metal framing, which looked much more classy. Plus, the light grey plastic doesn't match well with my redwood deck. If nothing else, I wish the company carried a brown, bronze, copper or black color option. I guess I could spray paint them if I wanted, but I just don't want to go through the extra effort. Lazy! =)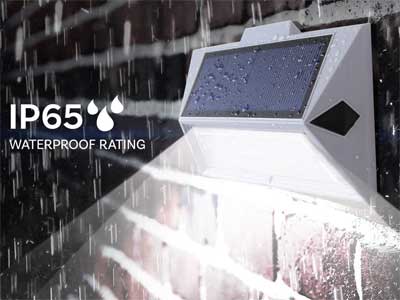 2. Bright White, Not Warm White LED Bulbs
Next, the lamps use bright white LED Bulbs. Although they probably illuminate more brightly than warm white lights, I wish they offered a warmer, yellow color. I think they would match better with the flame-like solar tiki torches that I have in my yard.
3. Solar Lights Don't Illuminate Well in Higher Locations
Because these lights have such an inconspicuous shape, I hoped to use them in other areas a little higher up. For example, on a deck railing or attached to a fence. That doesn't work so well because these are specifically designed for use closer to ground level on risers or along walkways.
Solar Step Light Specs:
Material: High Strength ABS Plastic
Bulbs: 8 LED Bulbs
Battery Capacity: 1000mAh
Dimensions: 5.15″ Long X 3.4″ Tall x 1.2″ Deep
Waterproof Rating: IP65, designed for outdoor/outside use in all weather.
Warranty: 12 Months
** You can also get a 2-pack, 6-pack or a set of 10 lights here