Hands down, these solar tiki torches are my favorite landscape lights of all time. The seriously realistic flickering flame adds more light, color, movement and ambiance to my backyard than I ever expected.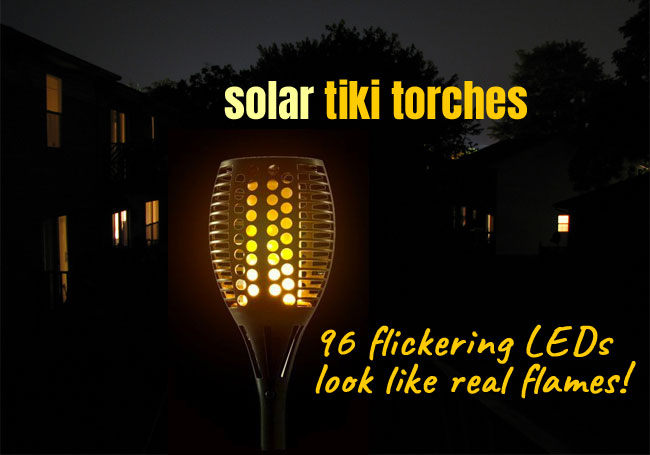 Why Tiki Torches? and Why Solar is Better…
Like many people, I like how tiki torches look at summer pool parties. You feel like you are on vacation and should have a tropical drink in your hand.
However, I worry about the fire hazard of the open flames, especially on a windy day. Plus, you always have to buy more fuel and make sure you put the torches out when the party ends.
These solar tiki torches require no match, gas, electricity or special wiring. They turn on automatically at dusk and stay on for most of the night. (In fact, I have one that stays on all night long.)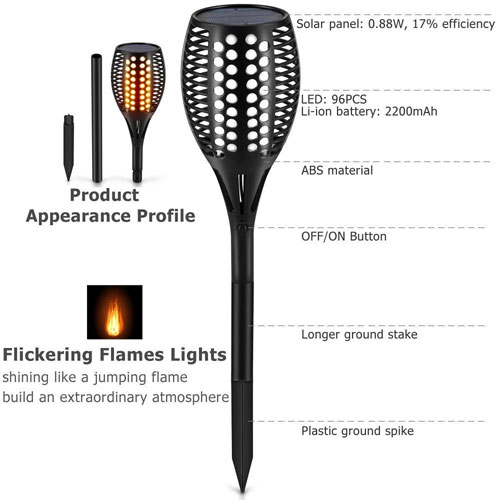 The LED flames are truly realistic. I was actually surprised. Somehow, the 96 LED bulbs work in a lifelike pattern to mimic the appearance of fire. I have no idea how it works.
In addition, these lamps emit a yellow-ish, warm white light, so they give off a feeling of warmth and heat. That said, they stay cool to the touch so you can feel comfortable with kids and pets running around the yard.
Compare to Other Solar Tiki Torches:
4 Ways to Use Tiki Torches Year-Round:
Besides using these solar torches as a festive decoration at parties, you can use them year-round for a variety of other functions. Consider them multi-functional.
1. Pathway and Landscape Lighting: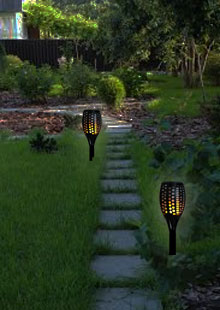 For example, they make great pathway lights because they radiate a significant amount of light. I even use them to illuminate different areas of my landscaping, since they reflect light off of shrubs, plants and rocks.
2. Spooky Halloween Decor:
They also make spooky halloween decorations to put along your driveway or next to your front door. Due to the fact that these lights don't require wiring, you can move them around with ease.
3. Table Centerpieces:
You can even shorten the stake and place the torch in a planter to use as a table centerpiece for outdoor dining. The flickering flame adds enough light for entertaining while still letting guests enjoy the nighttime outdoors.
4. Beach Barbecues?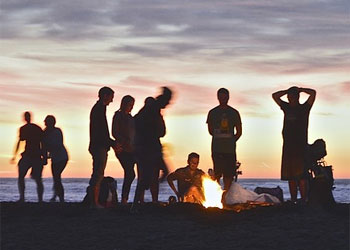 Since these solar torches are portable, why not take them to the beach or the park? They make a great excuse for planning a beach barbecue or picnic "date night" at the park.
When you can use your landscape lights in multiple ways, they suddenly become a much better value. At least, that justified my decision to buy 8 more…
Note: The one problem I have with these tiki torches is that now I cannot go back to regular pathway lights. The "moving" lights are just too cool.
The following video review shows how large and tall the lights look in real life. You can also see how realistic the flickering flames look at night. (Note: The seller gives discounts for larger orders.)
Get 2 Tiki Torches for $50
Specs for Solar Tiki Torches:
Dimensions: 31.5″ long (including stake) x 4.75″ (lamp diameter)
Material: ABS & PC (superior strength thermoplastic)
Lamp Color: Black
Bulb Color: Warm White (2800K)
LED Bulbs: 96
Lumens: 35 Lumens
Battery: 3.7V 2200mAh Lithium Battery
Waterproof