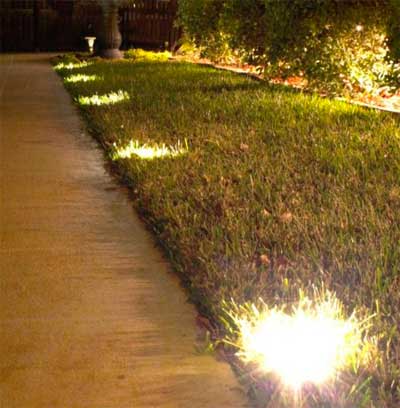 In-ground lights can look very sleek and be unobtrusive in the landscape at the same time. In addition, solar ground lights are really easy to install.
Plus, you can use them pretty much anywhere that receives sunlight. In fact, you don't even need to stake them in the ground!
I like these flat, in-ground landscape lights for a number of reasons.
However, they do have a few downsides as well. I discuss them below…
What I Like About Solar Ground Lights:
1. Really Bright Lights, Good Value
These ground lights in particular have 8 led bulbs instead of the usual 4. Therefore, they shine more light and you can illuminate a larger space. In my experience, higher-powered lights typically have a higher quality as well and tend to last longer. Thus, they end up being a better value in the long run and costing less money over time.
Compare Solar In-Ground Light Prices:
2. Stylish, Contemporary Design
The flat design of these solar-powered lights make them look like regular landscape lighting. They don't look cheap, like some solar lights can appear. In addition, they have a modern, contemporary feel, which can also upgrade the appearance of your home. For example, they can provide a subtle lighting effect along a driveway without having a bunch of lights sticking up all over the place.
3. You can install lights quickly and easily.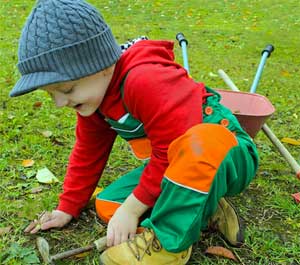 Simply dig a small hole in the ground. In fact, you can do this with a small garden trowel. Furthermore, you can move them from one location to another without much effort.
These in-ground garden lights look great around a patio, deck or as paver lights where you want "marker lighting". The 5″ built-in stakes keep them securely positioned in the earth while not requiring you dig a deep hole.
What I Don't Like About Solar-Powered In-Ground Lights:
1. Limited Solar Light Positioning
The solar panel is conveniently built-into the light face itself. However, this factor limits the areas where you can set up your lights. For example, if your walkway is located in the shade, you may be better off with path lights that have a separate solar panel that you can position in the sun.
2. Not Ideal for Landscape Lighting
Some people want to use these flush solar in-ground lights to illuminate landscaping up above. However, these don't work as well as solar spotlights because the light is not as focused. Therefore, it doesn't shine as far.
On top of that, they don't have the power of bright floodlights. And, under plants and shrubs, they might not receive much sunlight.
3. Bright White VS Warm White Bulbs
In general, I prefer warm white light to bright white because it feels more relaxing. These bright white lights illuminate well, but they don't come in the warm white color.
If you prefer warm white light AND want 8 LED bulbs, you can find them here. On the other hand, you can use bright lights for higher-trafficked areas and use warm yellow lights like solar tiki torches in more remote areas of your backyard.

Specs for Solar Ground Lights:
Light Dimensions: approximately 5″ tall x 4.5″ diameter
Material: Strong ABS Plastic Body & Stainless Steel Cover
Bulbs: LED (8 bulbs per light)
Auto On-Off Feature (dusk til dawn)
Light Color: Bright White
Volts: 1.2 Volts
Solar panel: 2V 130ma
Battery: 600mah Rechargeable Batteries
Waterproof Level: IP65
Lights, Brackets, Batteries Included