Flame-like solar lanterns add lots of ambiance to a backyard. However, they sometimes can be heavy and cumbersome to hang from umbrellas or tree branches.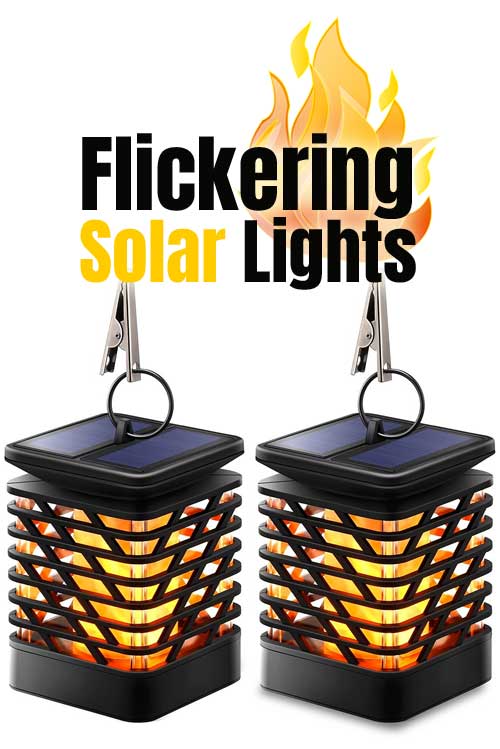 Not anymore, though! I found some really cool flickering solar lights with clips. They look like real flames, yet they are clever flickering LED candles shining warm yellow light.
You can easily hang them from your patio umbrella and tree branches. Plus, they work well to light up pathways, tabletops – without the clips.
How These Flickering Solar Lights are Better then Other Lanterns
These compact solar lanterns prove to be very versatile because you can move them around so easily. In fact, they pack easily for a camping trip or a picnic at the beach. Talk about ambiance!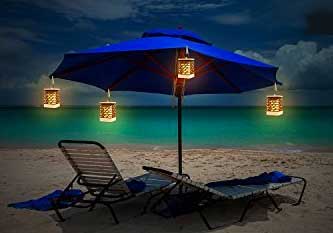 They look much more realistic and last a lot longer than the small battery-operated flickering tea lights. Actually, you really can't compare them because they are significantly larger and give off way more light.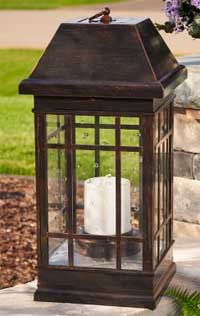 In fact, they look much more realistic and give off more ambient light than the Coach or Four Seasons Courtyard lights. Or larger mission-style lamps like the Portfolio, Manor House or San Rafael flickering solar lantern that typically sell at Costco or Target.
Sure, the larger 8 lb lanterns may be more sturdy and look more classic during the day when unlit. However, why are you really buying them?
Once I started using the flickering solar tiki torches, I realized that I couldn't go back to the standard 3-LED lights. So, when I noticed that the company that sold me the awesome tiki torches carried these as well, they didn't have to sell me on these. I was already sold. =)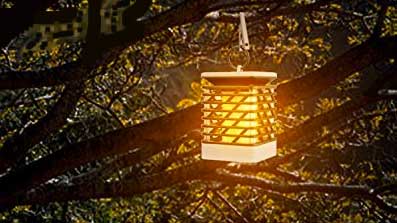 Not only are these flickering solar lights easy to install. But you can test them in different locations around your yard before you decide where to put them.
In addition, you can re-position them as needed. For example, parties, holidays or if a sunny location gets shady as the seasons change.
What These Clip-On Solar Lanterns Don't Have…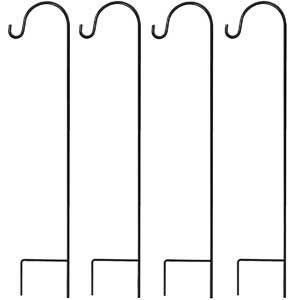 A potential downside of these flickering lights is that the package doesn't include shepherds hooks. The light-holders come in handy if you want to light a walkway or around a patio.
However, you can
easily buy these hooks separately. Simply stake them in the ground, and your lanterns can hang from the hooks about 5 inches off the ground. (Alternatively, you can get 35″ stakes to hang the solar lanterns higher.
Specs for Flickering Solar Lights:
Lumens: 104m
Voltage: 2 Volts
Solar Panel: .72 Watts
Battery Capacity: 1500mAH
Battery Type: Rechargeable Lithium Ion Battery
Waterproof Level: Works in Rain, Snow & Frost. IP55 (Protected from low pressure water jets from any direction.) Weatherproof for Outdoors.
Color Temperature: 1800K (amber/candle)
Dimensions: 3.5″ square x 5″ tall
Material: Sturdy ABS Plastic
Lamp Weight: .62 lbs
Color: Black
Best Price on the Flickering Solar Lamps (come as a pair)
Low-Maintenance, Cost-Effective Flickering Lanterns Save You Time & Money
Just like other solar landscape lights, these "flicker flame" solar lights require virtually no maintenance. For example, they automatically turn on at dusk and off at dawn.
Plus, they recharge during the day without you having to supply power to them. (No wiring!) On top of that, they last many seasons without needing bulb replacement, cleaning, etc..
In my opinion (and yes, I am bias), well-made flickering solar lantern lights pay for themselves in the value they deliver. I can enjoy the beauty of my garden every night, (not just during the day).