Do you like the flickering flame effect of the new solar torch lights? Well, now you can get them in different colors, including blue! Check out these Blue Solar Pathway Lights: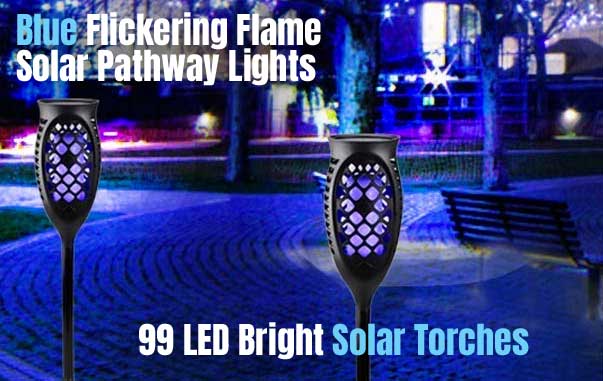 How are These Blue Solar Path Lights Better?
First, you can attach them to a wall, fence or deck railing in addition to staking them in the ground. Therefore, you can illuminate a garden path, a driveway, a pool patio or your front door. Each package includes garden spikes, floor bases, wall mounts and necessary hardware needed to attach the lamps where you want them.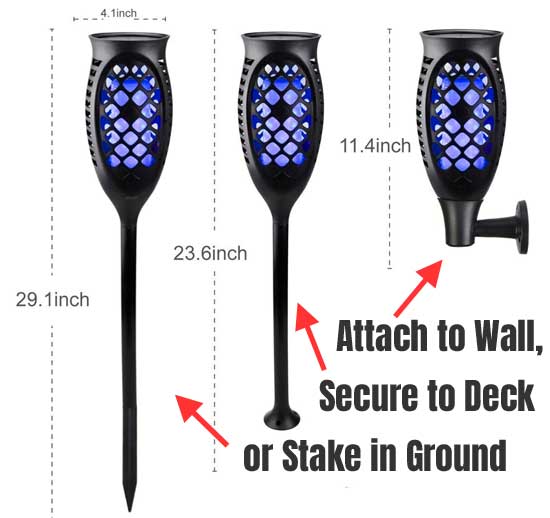 Second, blue provides relaxing, mood-enhancing lighting. Not to mention, it can create a spooky Halloween glow or an unexpected luminescence in your backyard. They also look cool in the snow during the Christmas holidays, etc..
Third, this unique set of blue LED solar garden lights has 3 different settings. Use the dancing flame, set them to shine constantly or to have a pulsating, wave-like movement.
How Long Do These Solar Lights Last?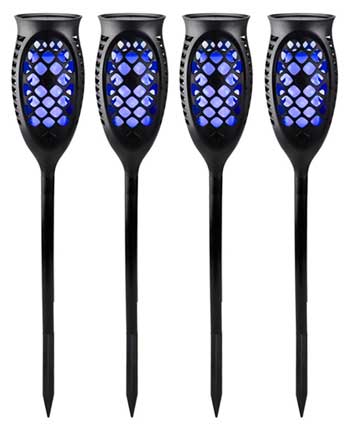 Fourth, due to the large solar panel on top of the lamp, the increased battery capacity and the 99 LED lights, these blue solar lights lasted longer than I expected.
Of course, the lamps that I placed in full sun shine longer than those that receive partial sun throughout the way. However, I expected that.
In general, these blue LED solar lights should stay light for approximately 10 hours at night during the summer and 5 in the winter. In my experience, they work exceptionally well because they typically stay on until after I go to sleep anyways.
Specs for Blue Solar Pathway Lights:
Bulb Type: LED
Bulb Color: Blue
Voltage: 3.7 Volts
Lamp Material: ABS Plastic (Stronger, more durable than other plastics)
Waterproof: Yes (IP65 waterproof rating)
Dimensions: 30″ Long x 4″ Across
Height: Approximately 24″ tall when staked 6″ in ground
Weight: Approximately 1 lb per light
Battery Type: 2200mAh Lithium Ion
Batteries Included: Yes
Solar Charging Time: 8 Hours
Service Life: 30,000 Hours
Blue Solar Powered Garden Lights Require No Maintenance:
Fifth, compared to wired outdoor lighting kits, these don't need any special care or attention. Simply set them up in a sunny location and let them illuminate your yard without any wiring or electricity needed.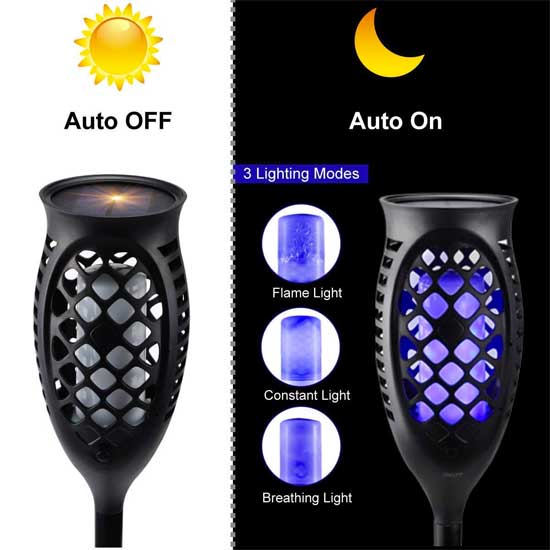 In fact, these lamps will turn on automatically at dusk and off at sunrise. Therefore, they won't waste their stored energy during the daytime when you don't want them on anyway.
Note> You can set these blue solar garden lights to have a constant glow, a flickering flame effect or a subtle breathing/pulsing light. If you get a set of 4 or 8 of these lights, you can program each light individually to have its own unique effect.

For example, pathway lights can have a constant glow, while upper wall-attached lamps can display the flickering effect. (Or vice versa.) Very cool!
Better Batteries in These Solar-Powered Lights!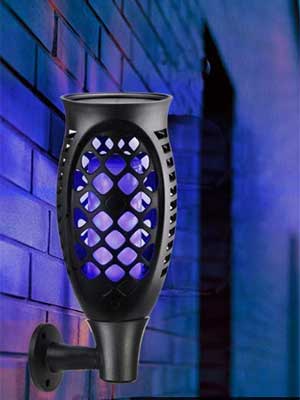 First of all, these blue LED lights each contain a lithium ion battery. When compared to Ni-Cad and NiMH batteries, the lithium ion cells lose their charge more slowly.
In other words, they last longer and thus give you a better value for your money.
Second, each lamp's battery has a 2200mAh load or "capacity". The higher the number is, the greater the capacity and more energy the battery can store at one time. Therefore, the higher the number, the longer a battery can last.
For example, I have had several solar spot lights and garden lights that contained 600mAh battery packs. As you'd expect, they don't last as long as a battery with a 2200mAh capacity.
Third, lithium ion batteries are considered "low maintenance" because they don't require memory or scheduled cycling to prolong the battery's life. An that's a big reason why we buy solar outdoor lights, right? They require virtually no maintenance!
Blue Solar Pathway Lights VS LED String Lights: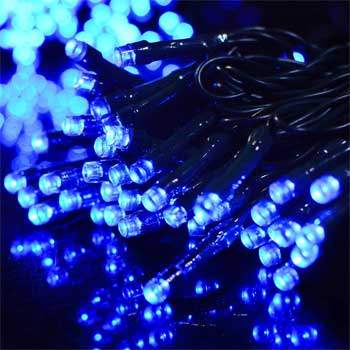 Compared to blue string solar lights, these blue solar torch lights shine significantly more light. Plus, their flickering design creates movement in an otherwise dark yard.
The pathway torches work well to illuminate a walkway, staircase or garden border. On the other hand, string lights can create a festive look when hung from tree branches, along a deck railing or or around a roofline.
In my opinion, the blue torch-style lanterns provide more concentrated light in one area. Whereas, the smaller fairy lights create a more subtle effect that you can spread out over a larger space. In other words, each style has its own advantages and disadvantages.