If you want to add solar landscape lighting to your home, the task may feel overwhelming at first. However, you can break it down into 4 simple steps. Then, this project becomes a lot easier…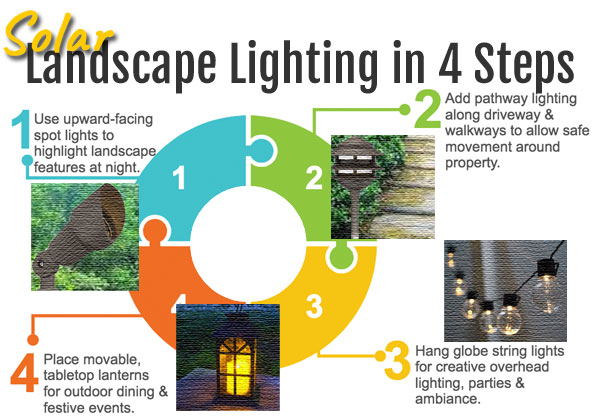 Below, I've outlined 4 solar landscape lighting tips that I used to design my own yard.
How to Design Landscape Lighting in 4 Simple Steps:
1. Solar Spotlights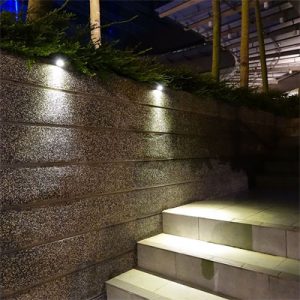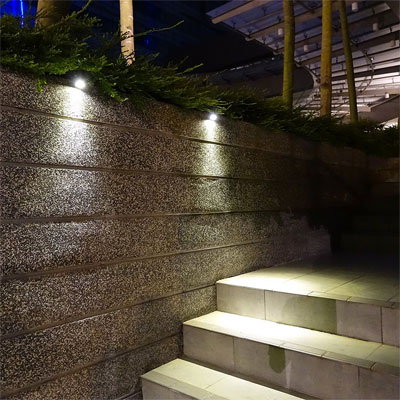 First, start with solar spotlights to showcase special features in your yard. For example, trees, the entrance of your home, water features, rock gardens, etc..
In a front yard, spotlights increase curb appeal, plus they add a level of security to your home at night. Look for 3-5 focal points that you want to highlight and begin there. You don't need to light up your entire yard to make an impressive statement. Sometimes less is more.
Note: By using brighter lights, you can use less while illuminating more features. For example, high-lumen spotlights can shine a far distance to brighten trees along with shrubs, plants, rocks and decor in front of them. (All with a single light!)
2. Solar Pathway Lighting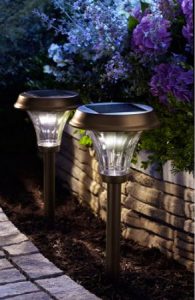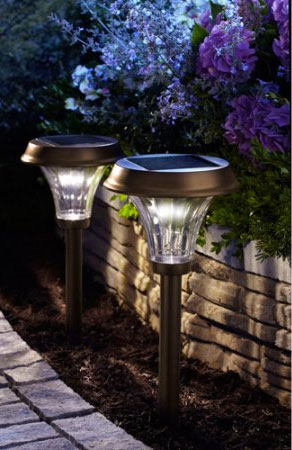 Second, add pathway lighting to make it easier to move safely around the exterior of your home at night. This includes lights along your driveway, walkways, steps to your front door, the perimeter of a deck or patio, etc..
Small path lights may provide less illumination and therefore require you to use more lamps placed closer together. On the other hand, larger lamps with more lumens can be spaced further apart while emitting more light.
Brighter path lights may seem like they cost more. However, you can buy less of them to illuminate the same amount of space.
Note: Wireless lighting allows you to move lights to test the best placement locations. Plus, you can re-locate them with the seasons. For instance, I have some areas that receive sunlight during the winter but not in the summer. I simply move the solar path lights, and quickly resolve this issue in 60 seconds. =)
3. Solar Globe String Lights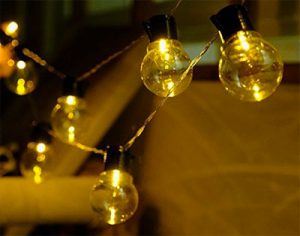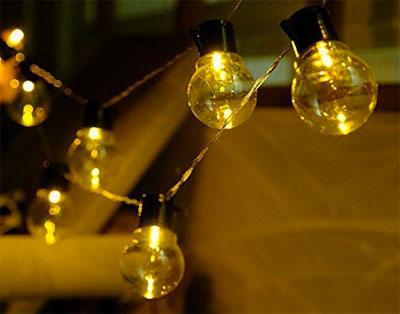 Third, hang an overhead lighting source like globe string lights. These can help illuminate a large area without adding too much light in one place.
Connect them from your rooftop to surrounding trees or wrap them around a pergola, trellis or patio umbrella. Larger globe lights add style and ambiance to an outdoor space, yet they cost significantly less than Edison bulb string lights.
Note: Talk about ambiance! These vintage-like bulbs can add lots of style to an outdoor space without much effort or cost. And don't forget, you get to enjoy looking at them from indoors as well. It's like having a year-round celebration!
4. Solar Lanterns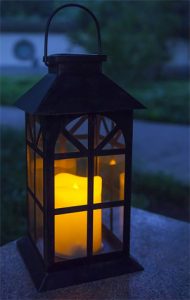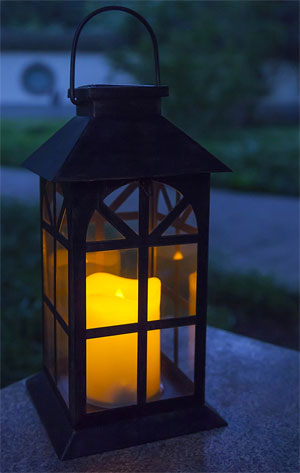 Fourth, place lanterns in strategic locations where you need additional light. For instance, use them on top of a table, along a staircase, hanging beside a gate, on a pergola etc..
Flickering lanterns work well at increasing ambiance or providing a festive atmosphere during outdoor parties. They are also extremely portable and can last a very long time when you only use them seasonally.
Although these lanterns don't shine as brightly as the other options above, they are sure fun to look at. Sometimes outdoor lighting is not all about function, but rather creating a relaxing space that helps you wind down in the evening – with a glass of wine, of course. 😉
More Solar Landscape Lighting Tips:
Bob Vila recommends plotting out a plan on paper first, incorporating a variety of lighting styles. This strategy is especially helpful if you are working with a limited budget.
Along those same lines, HGTV says to start with the "purpose" in mind. Do you want to add lighting for more security, entertaining guests, ambiance? Working with a specific purpose in mind can actually make the planning process easier because you know what your actual goal is.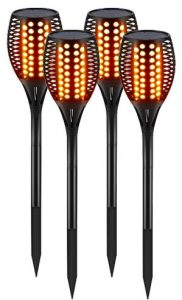 Landscape lighting not only makes your yard more functional after dark, it enhances your views from the indoors as well. You don't have to use lots of lights for this. In fact, my favorite outdoor lamps right now are my solar tiki torches.
Tip Solar landscape lights with LED bulbs can last several years. However, they eventually wear out and/or dim. I now buy lights in multiples, so I can have extra on hand when lamps wear out. Buying more at once helps me save money, plus it helps me save time shopping as well.
Before you buy solar landscape lighting, decide a few key features that you want to illuminate most in your backyard at night. Start there.
You don't have to light up your entire yard to make an impressive statement. Sometimes lighting up a single tree and adding a few pathway lights can do the trick. Plus, it lets you customize the look of your home. =)